Custom Wedding Invitations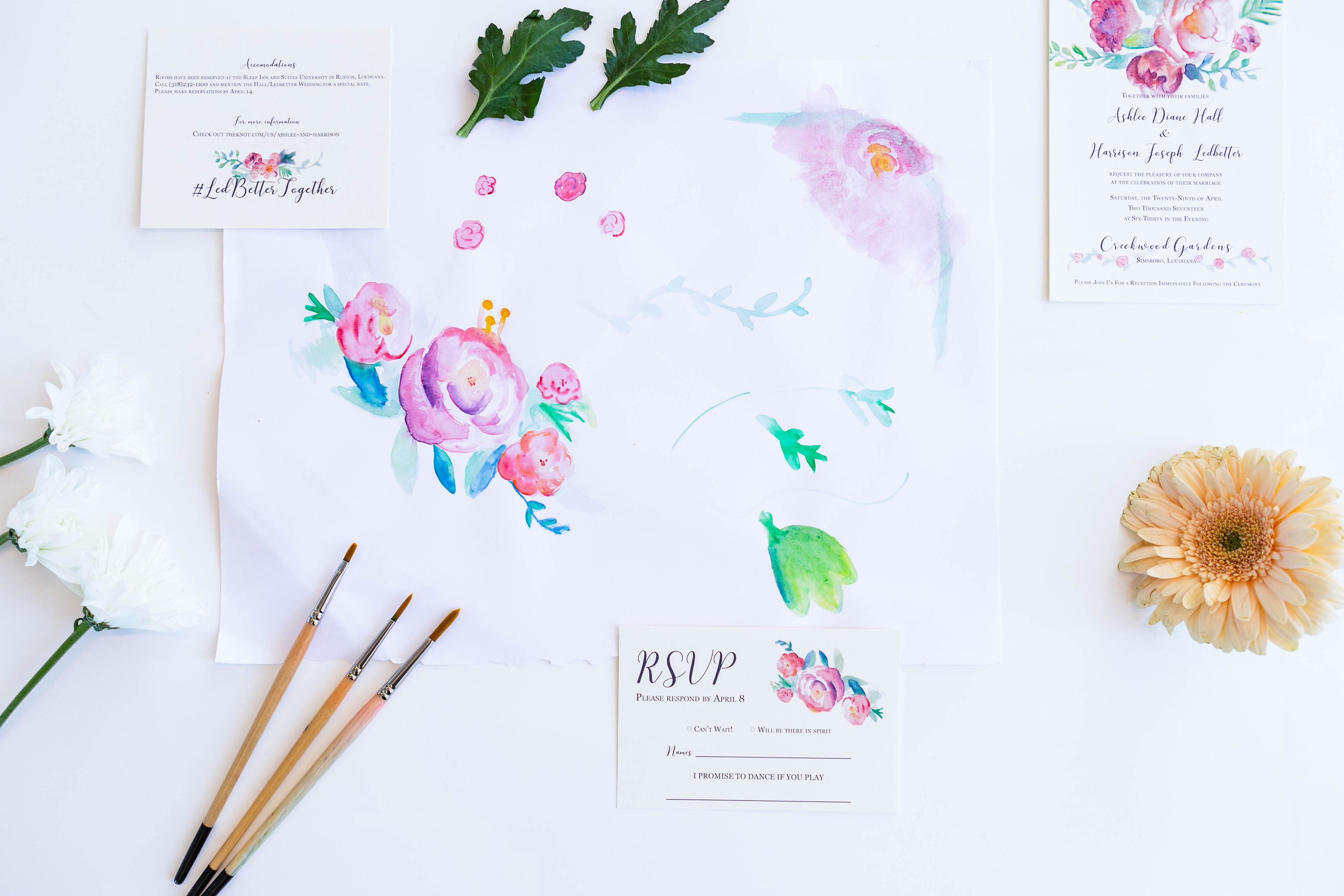 "This is true love — you think this happens every day?"
Congratulations! You're Engaged! Has it sunk in yet? Is it real? Probably not, but I want to help you tell your love story because it will be here before you know it.
Wedding planning is the best, the worst, and everything in between. Let me be the one to help you create custom wedding stationery to set the scene for your big day. If you think about it, your wedding stationery may be the only thing you get to cherish forever along with your photos. Let's make this keepsake the best one yet by taking your personalities straight to the paper. Every one of my invitation designs is original, hand-painted, hand-drawn, or even hand-lettered to make it one-of-a-kind. Plus, it is all inspired by you! Sounds fun, right? If this is a keepsake you can't live without, then let's get started!
---
INVESTMENT
For 100 custom invitation suites (invitation + envelopes and RSVP card + envelopes), my couples can expect to spend around $1,360. This includes custom artwork and illustrations of your choice for each piece of your suite. Your invitations will be printed on high-quality, luxurious paper and paired with envelopes that complement this style. Pricing will vary depending on quantity and additional pieces added such as a details card, envelope liners, wax seals, or any other extras to create your dream suite.
The average Indigo Prints couple spends $3,600 on their custom designed invitation suites. Once I receive all your info from the below questionnaire, I will take the time to put together a quote tailored to your wedding vision. I can't wait to get to know you and help tell your love story!

---

WHAT TO EXPECT
STEP 1
For this very important first step, you will fill out the custom wedding questionnaire. I will then send you a tailored quote and the option to set up a free phone consultation with me to address any questions or concerns you may have about the process. If you are happy with the proposal and you are ready to book, you will pay a 50% non-refundable retainer.
STEP 2
My favorite part! I will be sending over another questionnaire that will be all about you as a couple and your personal love story. As well as the sappy stuff, I want to hear your wildest dreams for your perfect wedding. Once I have learned more about the two of you, I will create your very own custom mood board. This will include well thought-out inspiration images, possible design details, and a color palette to bring it all together. You will also receive sketches of your invitation artwork to make sure we are headed in the right direction.
STEP 3
You have now approved your favorite sketches so I get to break open the drawing pad/paint palette! You will then receive design proofs that need your approval before printing. You will get up to THREE proofing rounds to insure you are 100% satisfied and every detail is perfect. Then your beautiful pieces are sent off to the printer!
STEP 4
Let me give you peace of mind by getting my hands dirty and taking care of the assembly! This includes the gluing, tying, sticking, sealing, and stamping. You could use a night off (believe me, I know how overwhelming wedding planning can be) and I don't mind wrapping these up into their final pretty package.
If you would rather do this step yourself, I will be shipping you all the invitation components with one suite assembled for reference.
STEP 5
Your invitations are hitting the mail and you get to sit back as your RSVPs start rolling in. Let's work together to make these dreams come true!
---

---